19.07.2021
Automatic cups filling machines are used for packing liquid and/or granular products in polypropylene, polystyrene, or paper cups.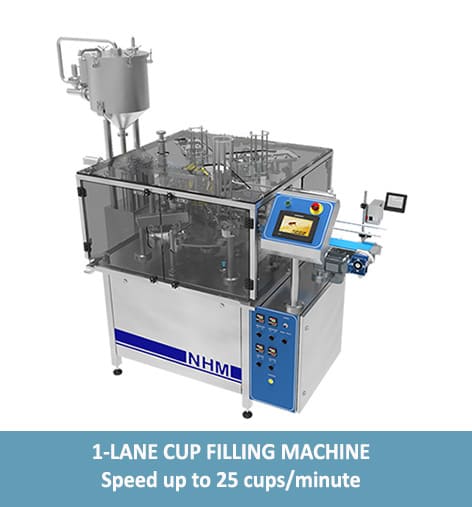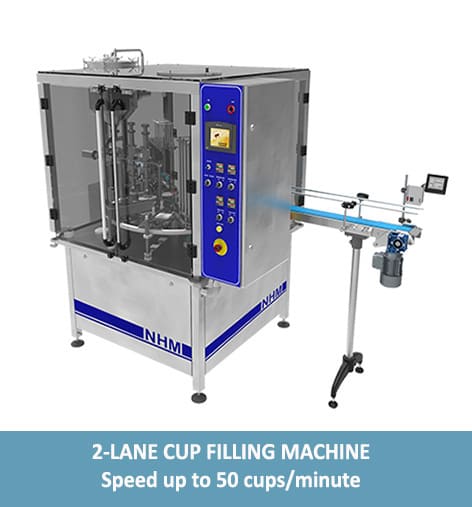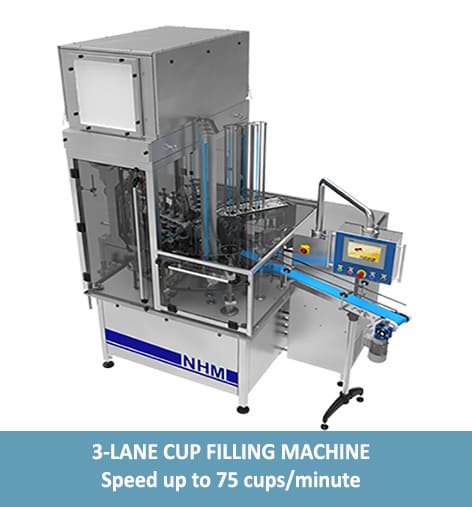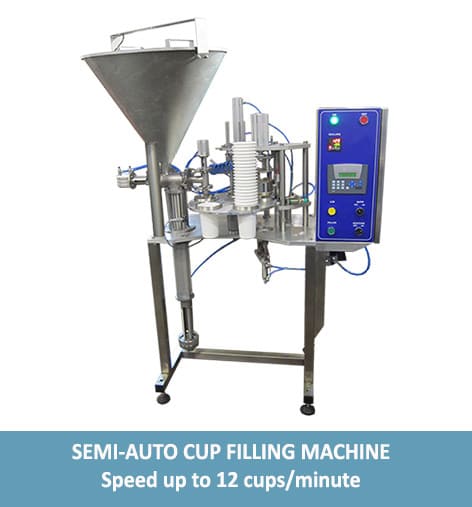 The packaging process needs to be automated in order to ensure high productivity, hygiene of the final product and guarantee necessary shelf life taking into account the characteristics of both the product as well as the packaging materials.

Features of equipment for packing in cups: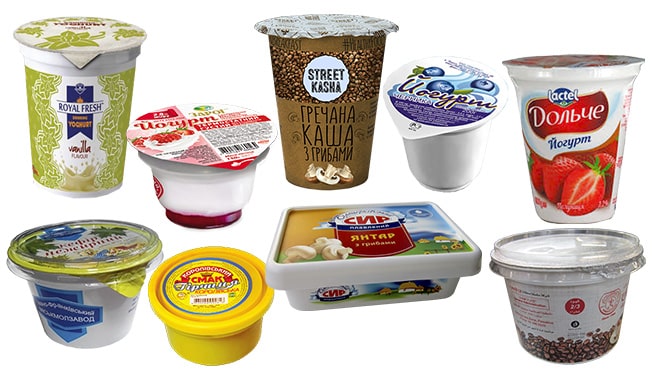 The packaging machine must provide dosing of products within a range of 20 to 1000 ml with leakproof sealing. There are several options for sealing:
- sealing cups with lid (pre-cut lid made from aluminum foil or film);
- sealing cups with a lid cut out from a film roll;
- closure of cups with plastic cover, and
- closure with plastic cover after sealing of lid.
The packaging material may be in the form of a cup or a rectangular/square container.
It is also very important that the machine allows you to easily and quickly changeover to different container volumes and product doses.
The most popular machines for these applications are the CFM series series, in which all the necessary functions mentioned above are successfully implemented:
CFM series' machines can be equipped with various optional equipment to meet customer needs:
- Treatment of cups/containers & lids with UV lamp and inert gas flushing before lid sealing provides a high degree of hygiene and allows long shelf life of the product;
- Installation of additional filler for filling multi-component products (like jam, mixes, etc.);
- Machines in "UltraClean" configuration with a laminar air-flow system (HEPA filter) provides loading of packaging materials without opening machine doors & maximum hygiene of packaged products;
 - Automatic system of product infeed to the product hopper ensures continuous operation of the equipment;
 - Complete CIP connections provided with the machine. There is possibility to connect the machine to the centralized CIP unit of the factory;
- Turntable for convenience of product packing;
- Printer.

Applications of CFM Series Machines:
 The CFM series of packaging equipment is compact and therefore does not require large production areas. Depending on the configuration, the equipment is used for packing of the following products:
The design of the machine ensures reliable and long-term operation and hence economically viable and easy to maintain. The equipment complies with CE sanitary requirements and standards.

Benefits of cooperation with NHM Limited
Having our own in-house production, our company has a number of advantages:
custom-made machine execution is possible;
wide range of models;
service centre;
warranty;
As a major manufacturer of packaging equipment our company's specialists provide a full range of services - from pre-sales advice to warranty and post-warranty services.
 Our technicians travel around the world for commissioning and training of personnel.