25.08.2021
Doypack was invented about sixty years ago by the French entrepreneur Louis Doyenne and can rightfully be called one of the most useful packaging inventions. Today this type of packaging is widespread throughout the world. Every year, 40 billion Doypacks are produced for a wide variety of applications.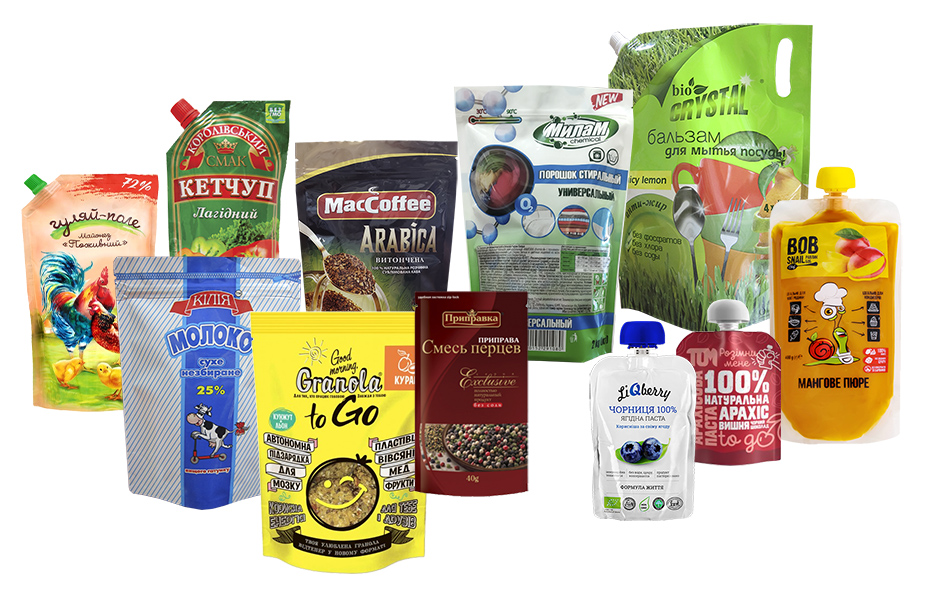 This convenient and secure modern packaging has become indispensable in the food, chemical, pharmaceutical, cosmetics and other industries.

Doypack packets
Doypack is a rectangular packet from flexible film with thickness of 80 - 160 microns and a folded (gusset) bottom, which expands when filled, allowing the package to stand.
Doypacks are:
two-layered;
three-layered;
four-layered.
All packets have an inner layer of polyethylene (PE) & an outer layer of polyethylene (PET), kraft paper or other materials that are printed or with self-adhesive label with product information and shelf life and batch date. In three-layered packets, an additional layer of aluminum foil is used, in four-layered packets, another layer of PVC, CPP or nylon is added, which allows to withstand sterilization process (autoclaving) for 20-40 minutes and ensures a longer shelf life of products.
The flexible Doypack is not subject to deformation, like tin and cardboard containers. It is more economical and more compact than a PET bottle. It does not break like glass, and unlike a three-seam "pillow" it can stand in rows without taking up much space and decorating the showcase.
Types of Doypack packaging
Proper packing of a wide range of products in Doypack packets is possible with the right choice of both the type of Doypack packets and the equipment that allows you to pack a certain type of product. Depending on the type and properties of the packaging product, packages of the following types are used:
classic (have welded seams on all sides, suitable for liquid, viscous and granular products);
with a spout – a dispenser with a valve sealed on top or on the side (used for liquid and viscous food, cosmetics, chemical products, rarely for granular products);
with a zip-lock (tight-fitting reusable packaging for granular products).
Packaging characteristics (convenience, practicality, secure, low weight, cost-effectiveness) and technical capabilities (manufacturing Doypack packets of different sizes, types, designs, composition) allow using such a packaging almost everywhere.
Equipment from NHM LimitedTM
Manufacturers use different types of filling and packaging equipment:
NHM LimitedTM company, which has its own production in Kiev, Ukraine has been producing and supplying packaging and filling equipment for various types of packaging to a wide range of industries for almost thirty years. The patented trademark NHM Limited is known in 47 countries of the world. Amongst clients are world-known brands - Danone, PepsiCo, MacCofee, Lactalis, etc.
NHM LimitedTM manufactures and supplies several types of equipment to work with Doypack packets:
1. ASP series - an automatic machine for forming empty packets (for all types of Doypack or sachets with two- or three-sided sealing) from a film roll. The packets can be open-top or with a zipper. Suitable for manual filling or for use in ADM series machines.
2. ADM series is a packaging machine for packing products (liquid, viscous, free-flowing) into ready-made Doypacks. Suitable for packing spices, breakfast cereals, powdered and condensed milk, tea, coffee, drinks, sauces (mayonnaise, ketchup, mustard), confectionery pet food, as well as liquid soaps, cosmetic gels, cleaning products, washing powders. The machine works with all types of Doypack packets, if necessary, inclusive of dosing spout.
3. ADM-GP series – semi-automatic or automatic machines for filling viscous / liquid products into ready-made packets through a sealed fitting with subsequent closing with a lid. Used for purees, processed cheese, peanut butter, drinks, jam, preserves, caviar, pastes, etc.
4. PK series – fully automatic machines that form, fill & seal all types of Doypack from a film roll. This series is intended for packing a variety of liquid, viscous and granular products & powders manufactured by the food, cosmetics and pharmaceutical industries.
NHM LimitedTM offers packaging and filling equipment of its own production with turnkey installation and post-warranty service (the service department has engineers and spares parts stock for prompt delivery of parts around the world).
As a manufacturer of non-standard equipment NHM LimitedTM can always take into account individual requirements and produce equipment that best meets the needs of esteemed customers.